What is a Jupe Table?
Let's first understand what a Jupe Table is. The Jupe Table was invented by Robert Jupe in England in 1835. He designed a patented mechanism underneath the tabletop. As you twist the top, it would expand and extra table leaves inside the table would appear.
Today, common nomenclature refers to round extendable dining tables and tables with self storing leaves as "Jupe Tables". Some have self-storing leaves and some have removable leaves.
Our collection of Jupe Tables consists of both types and of antique and modern designs.
Why would you want a Jupe Expandable Dining Table?
Jupe dining tables have become very popular in the design world recently. It's easy to see why someone would want a jupe table:
They're unique
there are models to match any decor
the table itself is an unusual topic of conversation
they are practical, as they can close when not in use to save space and open when you have guests over
Jupe Dining Tables for Sale
We have a large selection of Traditional Dining Tables and Mid Century Modern Tables. We also have several Rustic and Country models to choose from.
More About Who was Robert Jupe?
Robert Jupe patented his extraordinary design in 1835 during England's Industrial Revolution. The patent involved a hidden mechanism underneath the tabletop. To extend it, you could simply turn and rotate the table. Extra leaves would appear and you could go from seating 6 people to 12 people in seconds.
His patent descibes the table: "An improved expanding table so constructed that the sections composing its surface may be caused to diverge from a common centre and that the spaces caused thereby may be filled up by inserting leaves or filling pieces." (Sothebys.com)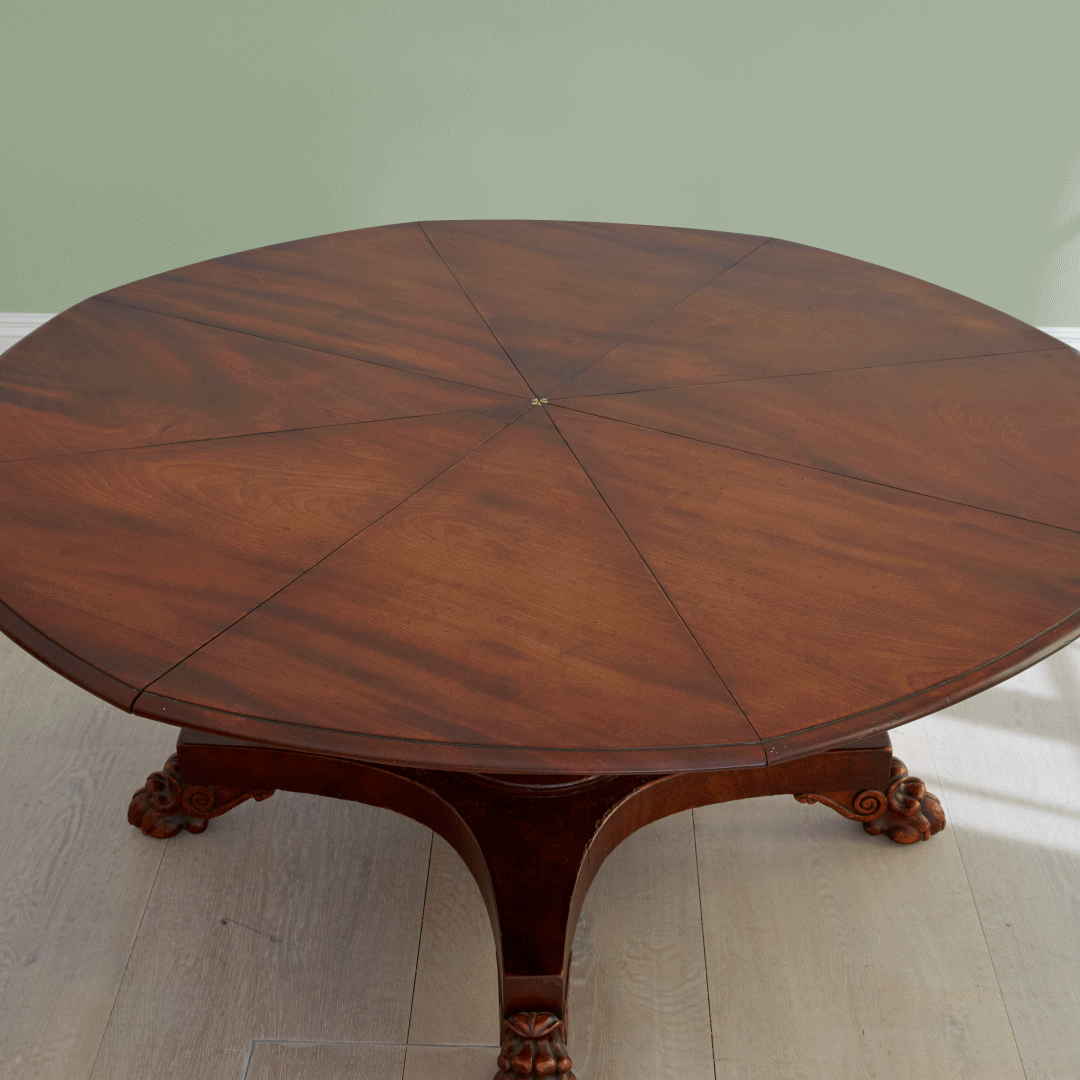 Will a Jupe Table work for you?
A good way to understand how a Jupe Table will solve your problem is to hear how it helped someone similar.
A customer was building a home in a New York City suburb and did not have a large family. They wanted a table that they would use daily and not fill up their entire kitchen. They wanted a table for daily use with a seating capacity of four people. Then, if guests came they wanted the ability to add a few more seats.
The decor of this kitchen was a combination of French Country and a classic updated white. They loved dark woods to contrast with the stark white marble counters and white walls.
Their best option was our Italian Renaissance Style Extension Dining Table. The wood has a natural dark country and rustic feel. When closed it seats four people and closes to a small diameter of 47". When opened, it expands to 56" and can seat two more people.
They were pleased with the flexibility that the Expandable dining table offers them. They also love the rich color and texture of the finish.
Should you consider a Jupe Table?
When it comes to dining, there are a lot of options. Most people opt for something common and traditional. If you're looking for a high-quality dining table that will stand out, a Jupe Table will work well for you.
English Georgian America offers Jupe extending tables that appeal to most design styles. You can find the right table in our extensive collection of Jupe Tables.
Besides our stock Jupe Tables, we also build custom dining tables. English Georgian America employs world-leading craftsmen.
Together, we can work with you to design a one-of-a-kind custom dining table that fits your needs.
You can visit our custom dining table page by clicking this link.
Browse our collection of jupe tables below. Most orders receive Free Shipping.
Please call us and speak with a specialist that can help you find the right table for you.
855-899-3466