Everything You Need to Know About Chesterfield Sofas
Chesterfield sofas are iconic pieces of furniture that have been around for centuries. These classic and timeless couches offer a luxurious, sophisticated look to any room. Whether you're looking to add an elegant touch to your living room or want to make a statement with bold colors and patterns, Chesterfields can do it all!
In this article, we'll explore everything you need to know about these beloved sofas, from the history behind them to design tips on how to incorporate one into your home décor. Get ready to find out why everyone loves Chesterfield sofas - they may become your favorite piece of furniture too!
Brief Overview Of The History Of Chesterfield Sofas
Chesterfield sofas have been around since the 1700s, when they were first crafted in the United Kingdom. They feature a unique tufted leather design and are an iconic piece of furniture to this day.
Initially created for nobility and members of high society, these luxurious yet timeless pieces quickly became popular for their comfort and style. The name "chesterfield" was inspired by Lord Phillip Stanhope, 4th Earl of Chesterfield who commissioned cabinet-maker Edward Jelleyman to create it with his own specifications.
These opulent sofas remain one of the most sought after pieces of furniture ever made – famous for its old-world glamour and modern appeal. This leads nicely into why chesterfields are classic and luxurious pieces of furniture...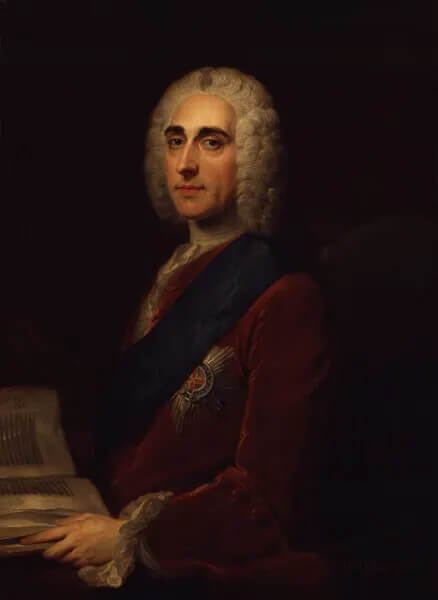 Why Are They Considered A Classic And Luxurious Piece Of Furniture
The appeal of a classic chesterfield sofa has been timeless for centuries. It's easy to see why; the luxurious looking piece of furniture with deep buttoned upholstery and tufting is a sight to behold. The classic shape, intricate detailing, and velvet fabric make it an attractive addition to any room. The traditional silhouette pairs elegantly with modern decor as well, creating a look that is both stylish and sophisticated.
In addition to its aesthetic qualities, classic chesterfield sofas are known for their comfort. This type of sofa usually features soft cushioning which makes them ideal for long lounging sessions or movie nights in. Plus they come in many sizes and shapes, making them perfect for small spaces too!
Furthermore, these pieces have proven themselves to be quite durable over time – meaning you can enjoy your chesterfield sofa for years down the line without worrying about wear and tear.
Chesterfields embody a sense of elegance while offering unparalleled comfort - making them highly sought after by homeowners everywhere.
With its timeless style, versatility, durability, and overall luxury factor – this beautiful piece of furniture is sure to take pride of place in any home.
As such, it's no surprise that it remains one of the most popular types of sofas available on the market today. Stepping into what exactly is a Chesterfield sofa?
What Is A Chesterfield Sofa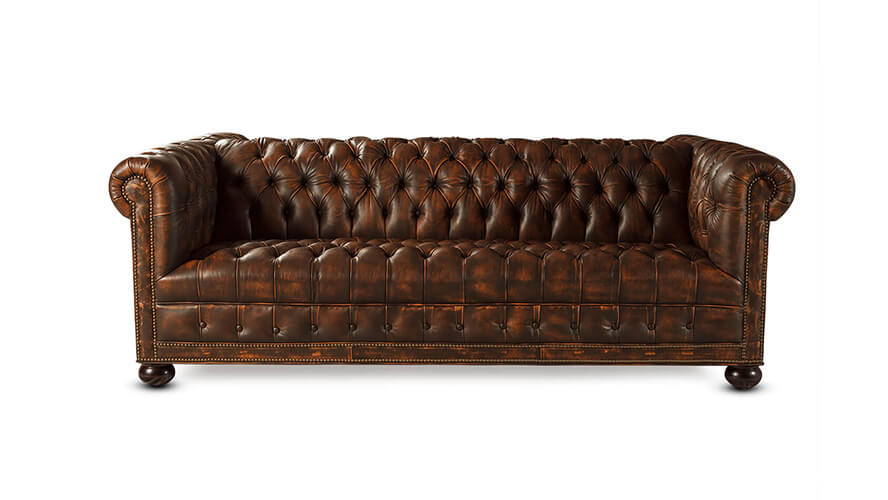 A chesterfield sofa is a timeless piece of furniture with an iconic design. It's characterized by its unique tufted back and low arms all at the same height, and with a rolled top.
This classic style has been popular for centuries and still shows no signs of diminishing in popularity today. Its clean lines and luxurious look make it the perfect addition to any room.
The term "chesterfield" has been used to refer to many types of sofas, as well as other pieces such as chesterfield chairs or ottomans that feature this same elegant tufted design. However, those pieces just use the same deep button tufting design element and are not truly a Chesterfield.
Regardless of what type you choose, all button-tufted furnishings embody sophistication and elegance - making them ideal for almost any setting.
With their enduring style, they are sure to become the centerpiece of your living space. Moving forward, we'll explore different types of chesterfields available on the market today.
Types Of Chesterfield Sofas
When it comes to classic, British-style furniture, there's nothing quite like the Chesterfield sofa. But not all Chesterfield sofas are created equal — they come in a variety of shapes and sizes with different features and materials, allowing you to pick exactly what fits your home perfectly. Let's explore some of the most popular types of Chesterfield sofas available today.
The first is the traditional English model, which typically has large arms that roll up at the top into an inviting tufted backrest. These models feature deep buttons or diamond tufts for maximum comfort and style, along with brass nailhead trim details and are typically raised on large wooden bunn feet, making them perfect for any living room. '
Chesterfields are available in many sizes, lengths and depths, and can be made with almost any upholstery. Typically covered in leather, a modern chesterfield sofa, can be finished in almost any durable fabric, even linen.
Modern Chesterfield Sofa
Today's modern chesterfields have been redesigned and embellished to offer even more contemporary styles. There are French influenced chesterfield options, which offer more delicate lines but still maintain its signature rolled arms and high backs. We also make more squared designs with an updated modern appeal.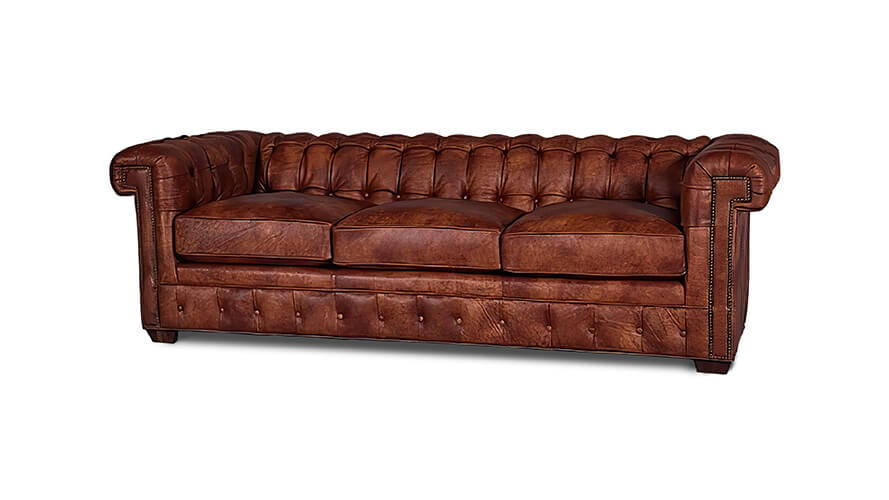 No matter what color or type of Chesterfield sofa you go with, it's important to consider other factors such as size, quality construction, fabric durability, and price when making your purchase decision.
What To Consider When Buying A Chesterfield Couch
Quality of materials

Experience and consistency of the manufacturer

Available custom options, sizes, colors, and styles

 
Before purchasing any style sofa, it's important to consider the size of your room and the style that you'd like. Make sure that the couch is proportionately sized for your space so that it doesn't appear too small or large.
You'll also want to think about how many people will be sitting on it regularly - if you're looking for seating for two or more people, then measuring out a larger option might be necessary. It's important to consider who you are buying your sofas from. There are many manufacturers around the world replicating chesterfield designs, but if you prefer to own one that will last for decades, consider the following points and stick with quality American manufacturers.
Quality of materials
A quality manufacturer must adhere to and strictly use high-quality materials: Our custom chesterfield sofas are made using high-quality materials such as top-grain leather, velvet, or linens. Sourced from world-renowned suppliers. We strictly use only high-quality solid kiln-dried hardwoods to construct the frames. This important attribute is imperative for a quality sofa that will last and age nicely over time.
When selecting fabric or leather, make sure it fits with your lifestyle as well as any other furniture pieces in your home. If you have children or pets who may come into contact with the sofa, opt for something durable and easy to clean; we have recently introduced a line of protected leather options that are far more durable than usual and ideal for highly trafficked areas such as a lobby or waiting room, or a busy home with active children and pets.
Velvet fabrics can give an elegant touch but will need extra care when cleaning spills or dirt. Ultimately, choose whichever material suits both your personal taste and practicality requirements! Transitioning now to caring for and maintaining this type of furniture...
Experience and consistency of the manufacturer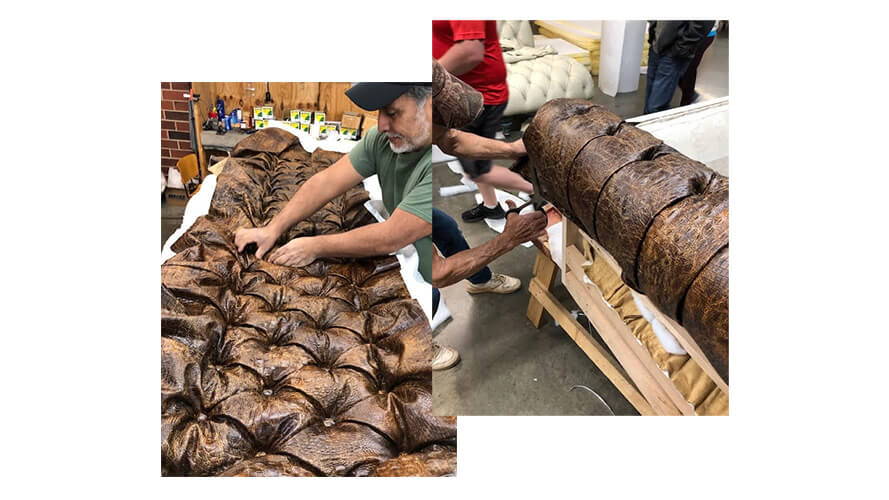 By buying from a leading American manufacturer, you can control the quality of the materials used as well as the construction of the sofa.
American-made furniture is known for its high quality and attention to detail. While there are a few makers that meet these high standards within the US, we only use top-grade materials and employ skilled craftsmen to create furniture that is durable, beautiful, and functional.
When compared to cheaper, imported furniture, American-made furniture tends to stand out and when the option is available, you should always opt for this higher-quality option.
In addition, American-made furniture is often more sustainable than imported furniture. Furniture companies in the United States tend to use locally-sourced materials and employ eco-friendly manufacturing practices. This means that American-made furniture has a smaller carbon footprint than imported furniture, making it a great choice for environmentally conscious consumers.
Available custom options, sizes, colors, and styles
Another important benefit of buying an American-made custom Chesterfield sofa is the ability to customize it to your liking. We offer a wide range of customization options, allowing you to choose the color, fabric, and other details of your sofa.
There are several sizes of our classic chesterfields, we make a unique extra long 4 seater chesterfield sofa, and we also make a very unique double sided sofa. Which is a combination of two sofas and an extraordinary example of American ingenuity and craftsmanship.
Finishing details; you can further customize your chesterfield couch by selecting the finish colors for the feet. With many wood tones, painted finishes, and even distressed painted finishes. You can select the brass nailhead details that help outline and frame the look of the sofa, with many sizes. and finishes available.
There are also many treatments that can be done to your leather to enhance the look and make it appear to be antique. We can hand finish the leather and create a unique patina.
Then, lastly, you can opt to combine leathers, hides, or fabrics to create a one-of-a-kind unique, and super comfortable couch.
With a local American maker, you have these options and can make something special that is durable and will last a lifetime. Imports do not offer the quality and custom features you would likely want.
Care And Maintenance Of Chesterfield Chairs or Couches
Caring for your Chesterfield chair or couch is simple. To keep your chesterfields looking their luxurious best, you should vacuum the fabric upholstery regularly to remove dirt and dust particles.
You can use an upholstery brush attachment on your vacuum cleaner or spot-clean with a damp cloth. Be sure to avoid excess moisture when doing this as too much liquid may damage the fabric of the sofa.
If there are any spills on your Chesterfield sofa, be sure to attend to them immediately by blotting away the liquid with a clean dry cloth. If necessary, use mild soap and warm water in small amounts – applying more pressure can cause staining or discoloration of the material.
Most fabrics today are "performance" fabrics and are treated to help minimize stains. Over time leather can soften and wear, although this patina is often a desired look. We can even embellish the finish of a new leather by applying a unique process to hand rub a patina onto the leather.
For those concerned about staining, we now offer a performance or protected leather that looks the same as regular leather, costs the same, but will withstand a tremendous amount of wear.
Decorating With Chesterfield Sofas
Whether you have a traditional or modern interior design style, a Chesterfield sofa can be the perfect addition to your home. In this blog post, we will discuss some tips and ideas for decorating with Chesterfield sofas.
Choose the Right Color and Material
One of the first things to consider when decorating with a Chesterfield sofa is the color and material. While traditional Chesterfields are often made of leather in classic colors such as brown or black, there are now many options available. From velvet and linen to bright colors such as blue or green, you can find a Chesterfield sofa to fit any style or color scheme. Consider the other furniture and decor in the room when choosing the color and material of your sofa.
Mix and Match Styles
Don't be afraid to mix and match different styles when decorating with a Chesterfield sofa. While they are often associated with traditional or vintage decor, they can also be incorporated into modern and eclectic spaces. Pairing a Chesterfield with sleek, modern furniture can create a unique and sophisticated look. Similarly, pairing a bold colored Chesterfield with neutral decor can make a statement without overwhelming the room.
Consider Placement and Proportion
Finally, consider the placement and proportion of your Chesterfield sofa. While it can be the centerpiece of the room, it's important to make sure it fits in proportionally with the other furniture. Placing it in the center of the room can make a statement, but placing it against a wall can create a cozy and intimate seating area.
Decorating with Chesterfield sofas is a timeless way to add elegance and sophistication to any living space. By considering the color and material, mixing and matching styles, accessorizing thoughtfully, and considering placement and proportion, you can create a stunning and inviting room that will impress anyone who enters.
Why Choose A Chesterfield Sofa
A Chesterfield sofa is a timeless piece of furniture that can elevate any room to the next level. It's like having an old friend come in and sit down; its classic shape, tufted upholstery, and traditional design all encapsulate comfort, luxury, class, and style. From living rooms to offices and lobbies, there are many reasons why someone might choose a Chesterfield couch.
For starters, it has a unique look that will stand out from other types of couches. Its curved arms give it an elegant silhouette while the deep button tufts add texture and depth. The thick padding ensures maximum comfort for hours on end. Plus, with so many available colors and fabrics to choose from, it's easy to find one that fits your decorating style perfectly.
Another great thing about this type of sofa is its durability factor. Made properly, they last longer than most furniture pieces due to their sturdy frame construction and high quality materials used in their manufacturing process.
This means you won't have to replace them anytime soon—which could save you money over time! So if you want something luxurious yet practical at the same time, then investing in a Chesterfield sofa may just be the right decision for you.
Frequently Asked Questions
How Much Does A Chesterfield Sofa Cost?
Purchasing a chesterfield sofa is an investment, so it's important to know what you are getting. The cost of the furniture depends on several factors such as size, material, and style. Generally speaking, you can expect to pay between $3,000-$8,000 for a quality American-made chesterfield couch.

If budget is not an issue then there are many more options available in terms of design and materials used. You could opt for luxurious velvet upholstery, exotic hides, or crocodile leathers; any of these will look great in almost any setting. There are large 4 seater chesterfield sofas, our double sided sofa, you can match them with a pair of chesterfield chairs.
So whatever your style preferences or budget might be, there are plenty of choices when it comes to selecting a chesterfield sofa – just take time to consider all the different aspects before making your decision.
Are Chesterfield Sofas Comfortable?
Yes, they are comfortable. This is an important question to consider when looking for a new sofa. Comfort should be your number one priority, and thankfully the answer is yes!
Chesterfields are renowned for their luxurious comfort. They feature sumptuous padding that offers superior support while you relax. The deep-buttoned upholstery provides a classic look with an extra layer of cushioning, making it ideal for sinking into after a long day.
The arms of these sofas also tend to be wide enough to rest your head on or even put your feet up if you're feeling particularly tired. Plus, the sturdy construction ensures that this style of furniture will last for years to come.
In short, Chesterfield sofas offer a cozy experience that won't disappoint. Not only do they have beautiful designs but they're also incredibly comfortable too – perfect for any living room or lounge area in need of some added comfort and luxury.
Are Chesterfield Sofas Easy To Clean?
Yes, if done regularly, Chesterfields are easy to keep clean.
Thanks to their robust leather material, most dirt can be easily wiped away. Regularly vacuum dust and use an attachment to remove dust that may accumulate deep within the tufting.
To make sure your sofa looks as luxurious as ever, you should also use leather cleaner annually or when needed. This will help protect against stains and discoloration caused by everyday wear and tear.
Regular maintenance of your Chesterfield sofa isn't just limited to cleaning either; fluffing up cushions regularly not only helps them look better but ensures there's enough support from all angles too! So if you're looking for a timeless piece of furniture that won't require much effort on your part, then you can rest assured knowing a Chesterfield sofa could be perfect for you.
How Long Do Chesterfield Sofas Last?
When considering furniture for your home, one question you may ask yourself is how long do chesterfield sofas last? This is an important question since furniture can be a major investment. So it's worth taking the time to understand what makes these sofas stand out from other types of upholstered seating and how they compare in terms of durability and longevity.
Chesterfield sofas should be constructed with high-quality materials that make them both stylish and durable. The deep buttoned-style tufting on the back and arms will remain intact even after intense use. Additionally, the solid frames mean these pieces can easily withstand weight while not sacrificing comfort.
All this means these pieces of furniture can look good for many years if properly cared for. We've seen our well-made chesterfields lasting decades. With proper care, there is no reason yours won't too.
Are There Any Special Considerations When Purchasing A Chesterfield Sofa Online?
Here's a list of things to consider:
1. Quality of material used

2. Special features/fabrics available for purchase

3. Returns policy
When purchasing a Chesterfield sofa online, there are several considerations to keep in mind. Firstly, it's important to look at the quality of the materials used and ensure they're up to standard. Secondly, you should consider if any special features or fabrics would be beneficial when making your purchase. Finally, make sure that returns policies are clearly stated before committing to buy.
It may also be wise to read reviews from previous customers so you can get an idea of how satisfied people have been with their purchases. This can help give you peace of mind when spending a significant amount on furniture for your home or office space. Ultimately, careful consideration is necessary when buying a Chesterfield sofa online as this will guarantee a successful transaction and satisfaction with your new piece of furniture!
Conclusion
In conclusion, Chesterfield sofas are a great investment for anyone looking to add style and comfort to their living room. They're comfortable enough that you'll never want to leave them and they look amazing in any space. Plus, they can last for years with proper care, meaning your investment is well worth it!
The cost of these luxury sofas may seem intimidating at first, but when compared to the long-term value and elegance they bring into your home, it's easy to see why many people invest in one. And when purchasing a chesterfield style couch online, make sure you read all the fine print before making a purchase - like checking delivery times or return policies.
Finally, if you're looking for inspiration or something special that will stand out among the rest – investing in a luxurious chesterfield sofa is an excellent choice. It's as if time stands still while sitting on this timeless piece of furniture; it's truly a sight "to behold".